Happy first day of spring! The days are getting warmer and longer and my seasonal allergies are kicking into full gear, which makes me think spring is officially here to stay! In addition to this lovely weather we have been experiencing, here are some of the other things I am loving this week!
I have had some serious driving time this last week and will continue to into next week. This
radio station
has passed the time in the car, playing practically every great song that came from the years 2000-2009. It is like a flashback to the days of high school dances and Thursday bar nights in college. How can I remember every lyric to these songs but not important things like where I placed all of our tax papers?!
blog.siriusxm.com
Bread and Wine, by Shauna Niequist
My mother-in-law gave me
this book
for my birthday and I am now just getting time to read it. The front cover immediately caught my attention, it looks so cozy and inviting, just like the subject of this book. It features some of the author's favorite recipes from throughout her life and also features a story, life lesson, ect. to go with each one. The author talks about her connection to food and how and why gathering around a dinner table is so important to her and her faith. This is far more than a cookbook, trust me, you will love it!
www.shaunaniequist.com
Speaking of food...this past week I had my first ever chicken and waffles experience. I have always been apprehensive to try it because it sounded like it would cause major trauma to my sensitive digestive system. Finally though, I caved to the peer/husband pressure and tried this flavor combination. It is crunchy, soft, salty, sweet and every other delicious flavor combination you can think of. While I wouldn't suggest making this a weekly meal, it is definitely something I suggest trying and that I will not pass by on a menu again. Here is a great recipe
from Williams and Sonoma if you want to try and make your own at home!
www.williamssonoma.com
I love Ellen and I also love a good YouTube video, put those two together and you get
Ellentube
. Ellentube has been around for a couple months but I recently just started visiting this site. It is also an app you can download for your phone or tablet. It features hilarious, clean and appropriate videos from her show, the internets and ones uploaded from users. If you want a good laugh, definitely check out it out.
www.youtube.com
Capri Blue Iridescent Jar Candle- Volcano
When I walked into Anthropologie this week the whole store had the most wonderful scent. I just just chalked it up to the euphoric feeling I generally get whenever I am there but then realized they were burning
this scented candle
throughout the store. I don't like a lot of scented candles because usually their scents are too strong and overbearing but this candle was so light and refreshing. It has citrus undertones and makes me feel like I am vacationing on a faraway deserted island.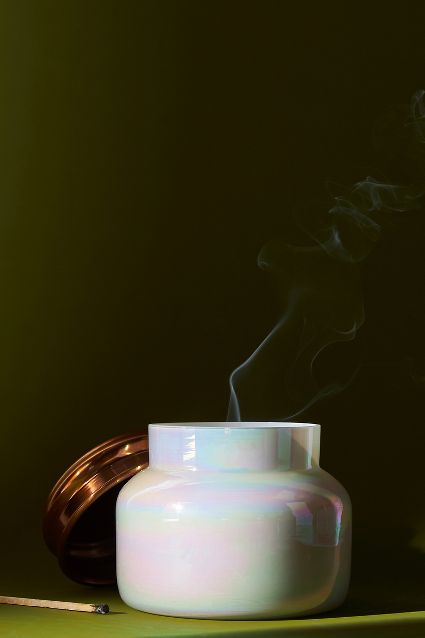 www.anthropologie.com